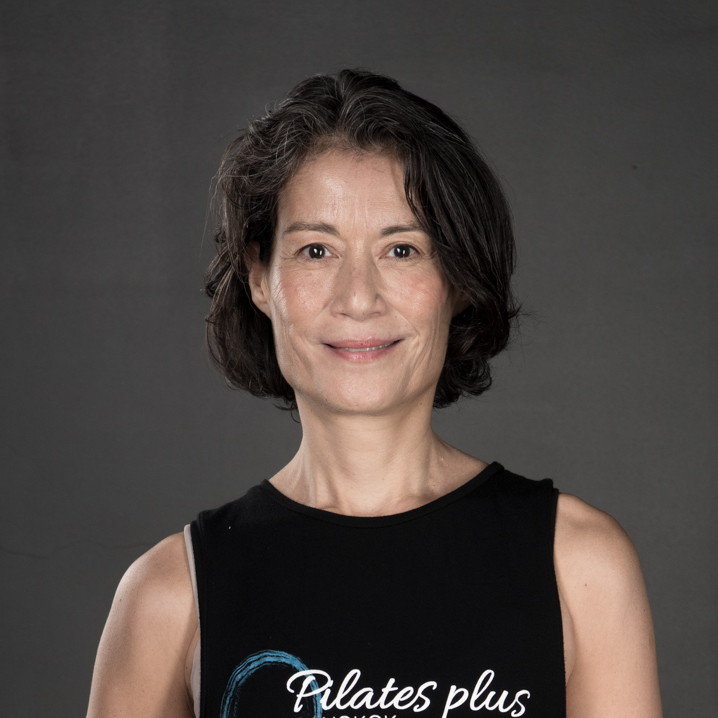 Kru Rai
Full certified Pilates Instructor
First started her Pilates journey over 10 years ago. Coming from a highly successful career in modeling, music and the arts she developed a full-blown passion for the arts. What started as personal journey turned into a full scale crusade taking her to the very pinnacle of Pilates teaching. She is one of the pioneers of Pilates in Thailand; her enthusiasm has rubbed off on hundreds of students over the years. Kru Rai is a true professional and can instill confidence in students of all abilities & take them to the next level. She is a fully certified STOTT Pilates instructor.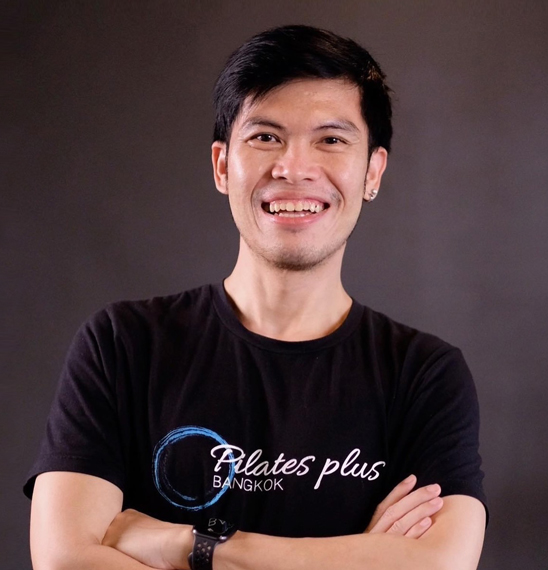 Kru Best
Certified xtend barre instructor/ pilates instructor
Kru Best is a professional dancer and musical theatre's actor. He was obsessed about dance, performing art and had studied in many kind of dancing.
He found out the best thing that can improve movement ability and maximize his limitation of dancing is Pilates.
While he came to the Pilates world,
he had started for various technics and many kind of workout style as Gyrotonic, Yogafly, Antigravity, Zumba, Jumping, xtend Barre.
Now he had experience in Instructing and group class exercise teaching more than 9 years,since 2012.
"Ignore the negativity and keep shining"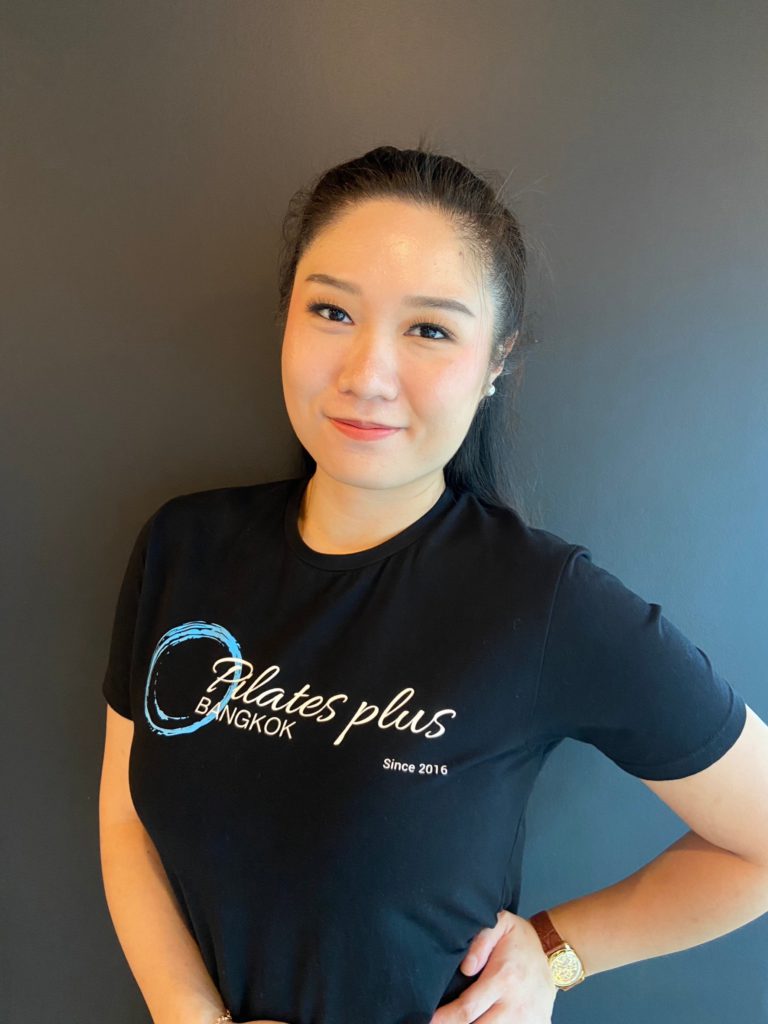 KRU MONA
FULL CERTIFIED INSTRUCTOR
Apart from physical therapy, Kru Mona had tried pilates as an alternative way to cure her back pain and it worked!! And after one whole year of regular practice of Pilates, her condition had improved drastically until she no longer felt the pain.
Considering that if she can cure herself with Pilates, she wants to help others too. Also seeing that as an opportunity for her career, Kru Mona started Classical Pilates teacher training and completed it before traveling to South Korea, Singapore and Australia to attend various workshops wanting to deepen her knowledge and learn more techniques for her teaching.
Kru Mona has continuously been practiced with the Certified instructor (level 4 and 5) from the renown Romana Pilates and she's looking forward to more trainings in the near future.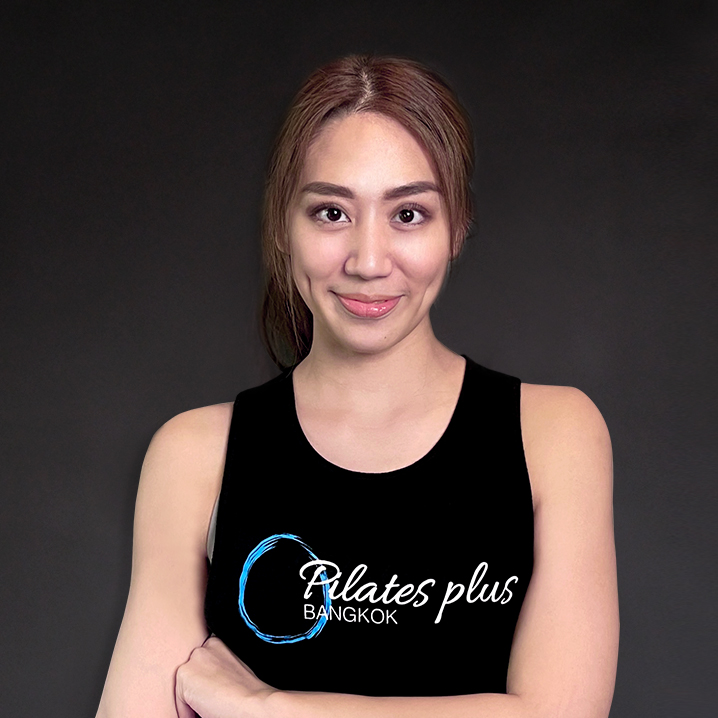 Kru Fang
Full certified Pilates instructor
"Kru Fang" Fully Certified Pilates Instructor. Getting to know Pilates allowed Shada to discover her new passion where she decided to pursue it further and has become a Fully Certified STOTT Pilates instructor. She has continued to enhance in depth knowledge by completing further courses and workshops including Injuries and Special Populations / Conditioning for Golf and Rotational Power / NeuroKenetic Therapy and also has become a Certified NeuroKinetic Therapy Level 2 Practitioner.Her intention is to apply this area of knowledge based on the grounds of Pilates to deliver full benefits to every student. Her main purpose is to pass on values and benefits of Pilates to everyone.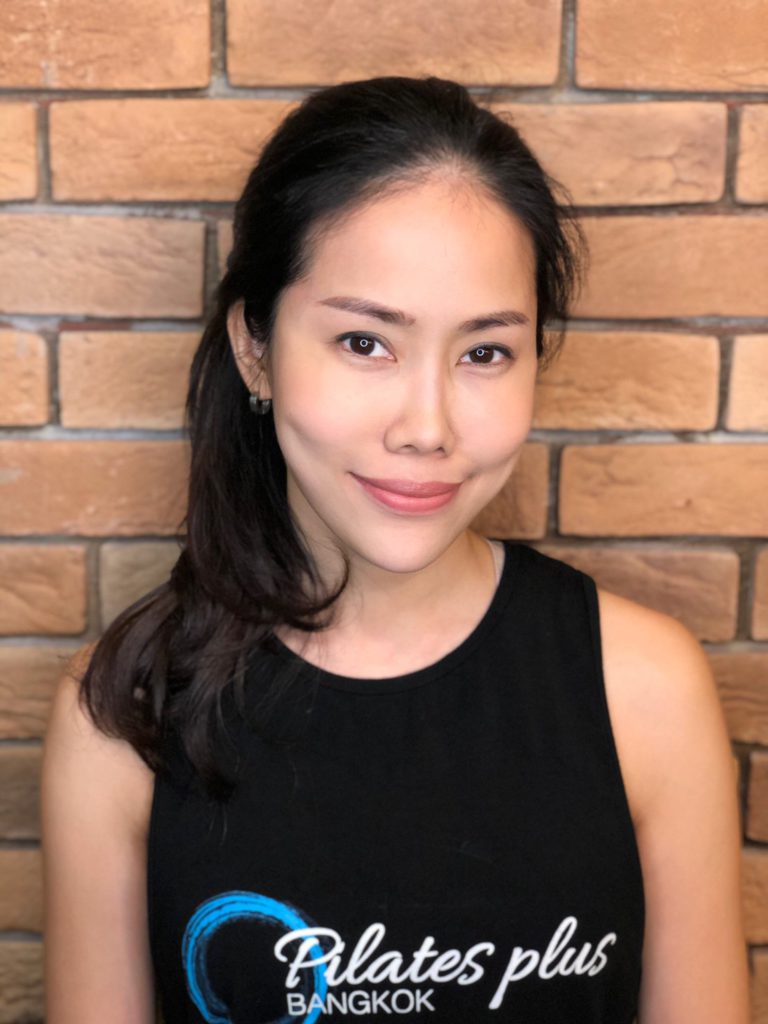 Kru Ice
Certified Barre Instructor / Pilates Instructor
Started her journey in Pilates as a means to cure flat feet syndrome and the goal to get back her pre-pregnancy body. With Kru Ice's beach body obsession, she dove right into the world of Pilates and began her fitness journey as an instructor in Mat Pilates and Reformer. After a few years of Pilates experience, she started her Barre odyssey at Pilates Plus Bangkok. Through teaching barre, she noticed the changes in her own body and became a true believer of the Barre product. Her sense of humor will catch you off guard during class and put a smile on your face while fighting through those barre burns. 🥰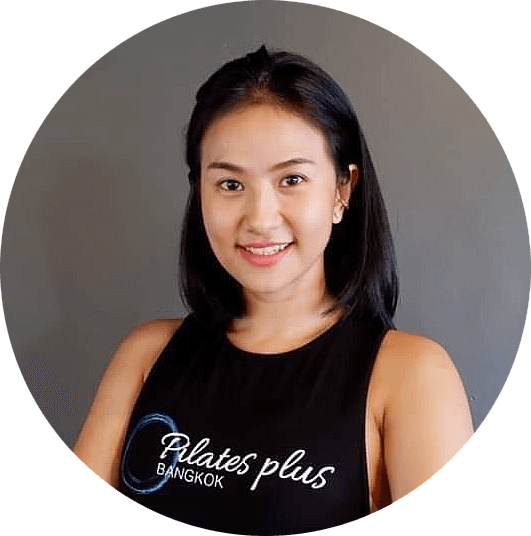 Kru Jeed
Pilates Instructor
From daily routine practice to passion and turning my road to a Pilates Professional.
I have been dedicated in my carrier to support
and educated Pilates Lover for a better lives.
I believe "Everyday is a new Beginning"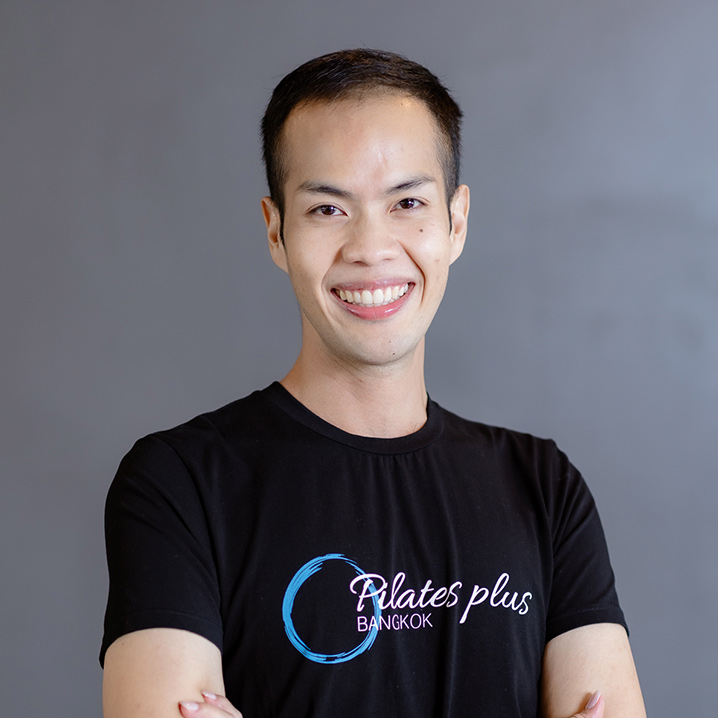 Kru Tony
Full Certified Pilates Instructor
With a degree in sports science, Tony acquired his 1st job as a Sport scientist at a renowned Smithvej hospital for 3 years.
Tony used to love running and had done numbers of marathons until one day when he was running, after 1st few miles,Tony detected acute pain in his lumbar. The pain continued to bother him and Tony had to quit running and start getting professional help.
In an attempt to his discovery, Tony took his 1st Pilates session. After a few sessions, he was astonished by how much his lumbar and his posture had improved.
With great enthusiasm, Tony kept practicing and kept himself enrolled in Pilates studies with numerous hours of endless trainings and workshops. Tony had been happily teaching Pilates for over 6 consecutive years and couldn't be more happy with his life as a Pilates instructor.
Like Joseph Pilates once said "Physical fitness is the first requisite of happiness" Tony keeps on passing this awareness to his clients and loyal fans.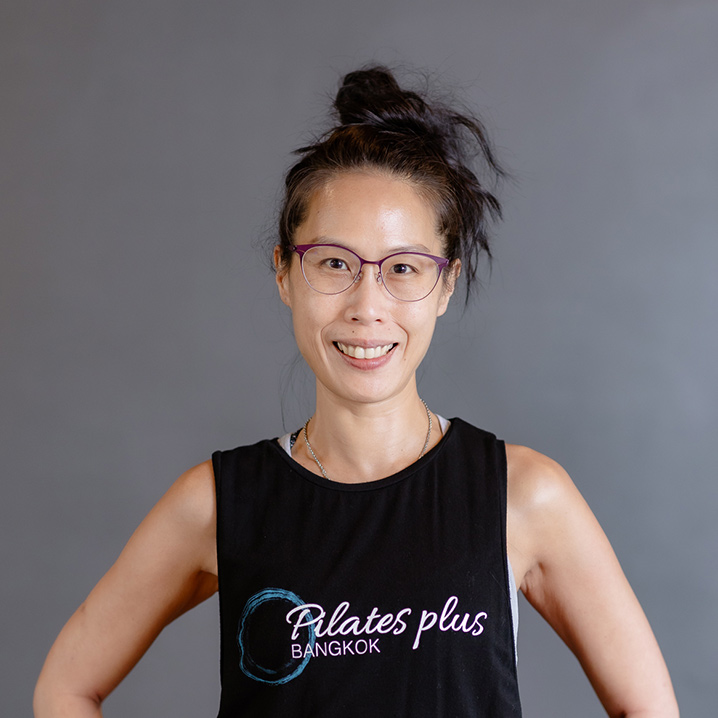 Kru Pom
Full Certified Pilates Instructor
Journey to the world of pilates.
Her pilates journey has started in 2004. She was looking for ways to cope with her scoliosis and introduced to pilates by her personal trainer. Since then she has fallen in love with the methods of the exercise. Because of her scoliosis, Pomme has her main focus on working muscle at the right time and place in order to optimize the movement and being centered. Pomme had her complete pilates training with Balanced Body, and has been working successfully with scoliosis and conditioned clients since the beginning of her career. Her quote "Experienced by pilates, inspired by pilates and passing on pilates"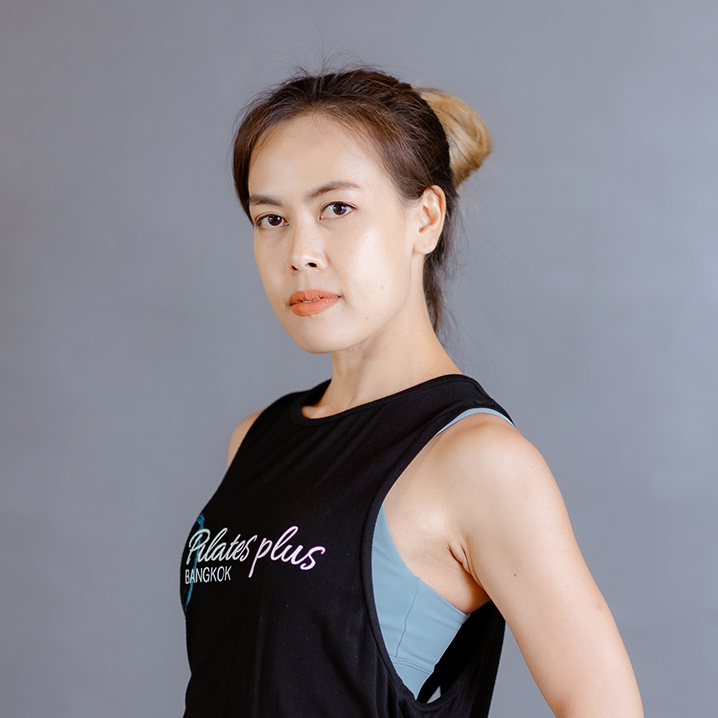 Kru Suyu
Certified Pilates instructor
Suyu was not a very healthy person to begin with. She had Hyperthyroidism , a severe allergy, sleep disorders and migraine. Refused to live weak and sick, Suyu decided that she could at least try to get stronger and happier. With such determination, she started to do various exercises of her liking; from yoga to swimming and running. As a result, her health condition improved and Suyu was beginning to enjoy her life a little more.
Until she found the new exercise called Pilates.
With the full 9 years of learning and teaching, Suyu is so convinced that Pilates had brought her back to happy life.
Currently Suyu is a STOTT certified Pilates instructor with a master degree in Sport Science. She's still looking to continue with an in-depth studies on Physiology in order to sharpen her knowledge and fulfill her great passion for Pilates teaching so she can pass on her love for Pilates to all her students and she is hopeful to help everyone to achieve a healthy life like her own.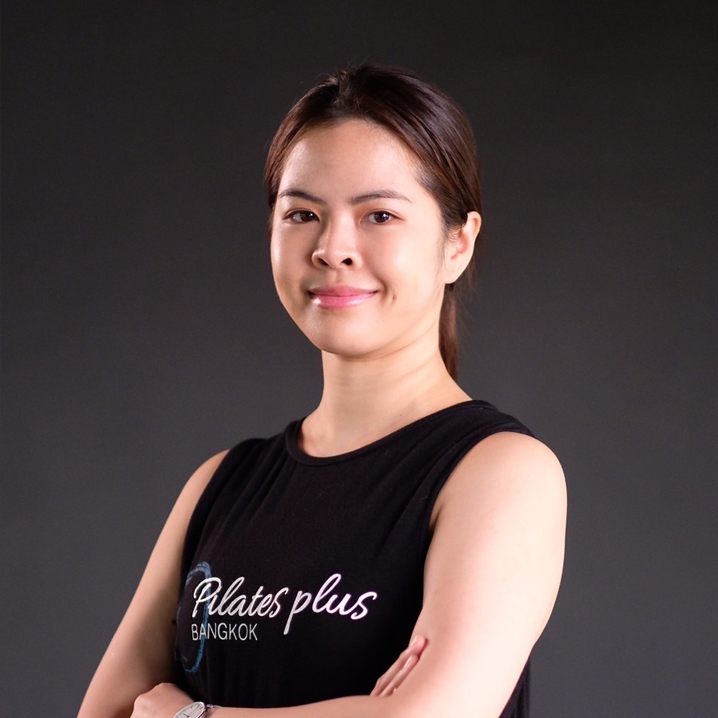 Kru Som
Full Certified Pilates Instructor
Som is a physical therapist with over 10 years' experience and has worked with many scoliosis clients as a Schroth therapist. She started doing Pilates because of her serious neck and lower back pain and later on she realized that Pilates can help improving strength, flexibility and the quality of life.
She started her professional study with Balanced Body and later on continued her study about Pilates for scoliosis regarding the Schroth method in order to improve her profession as a physical therapist and pilates instructor.
Kru Mor Som specializes in treating and teaching clients with health conditions especially in scoliosis.
If you want to improve your quality of life, Kru Mor Som will definitely not disappoint you.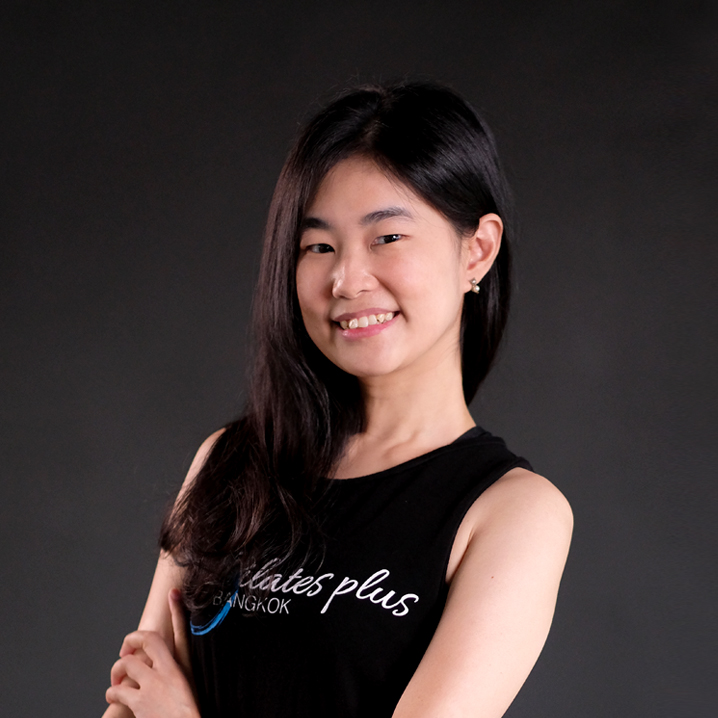 KRU MAY
Ph.D. In Exercise Science Exercise Physiologist & Pilates Instructor
Kru May has her Ph.D. in Exercise Science. She is an exercise physiologist and a lecturer in exercise physiology at Mahidol University. May had been a professional ballerina, contemporary dancer, and aerialist (acrobatics) for years in Germany and New Zealand and was regularly experienced musculoskeletal injuries during practices and the following shows. That was when she got introduced to Pilates and realized that the approach significantly attenuated her pain and even improved her performance on stage. Before coming back to Thailand, May had worked with clients with diverse health conditions such as heart disease, cancer, and post-operation. May specializes in biomechanics, motor control, rehabilitation exercise, and exercise in special population.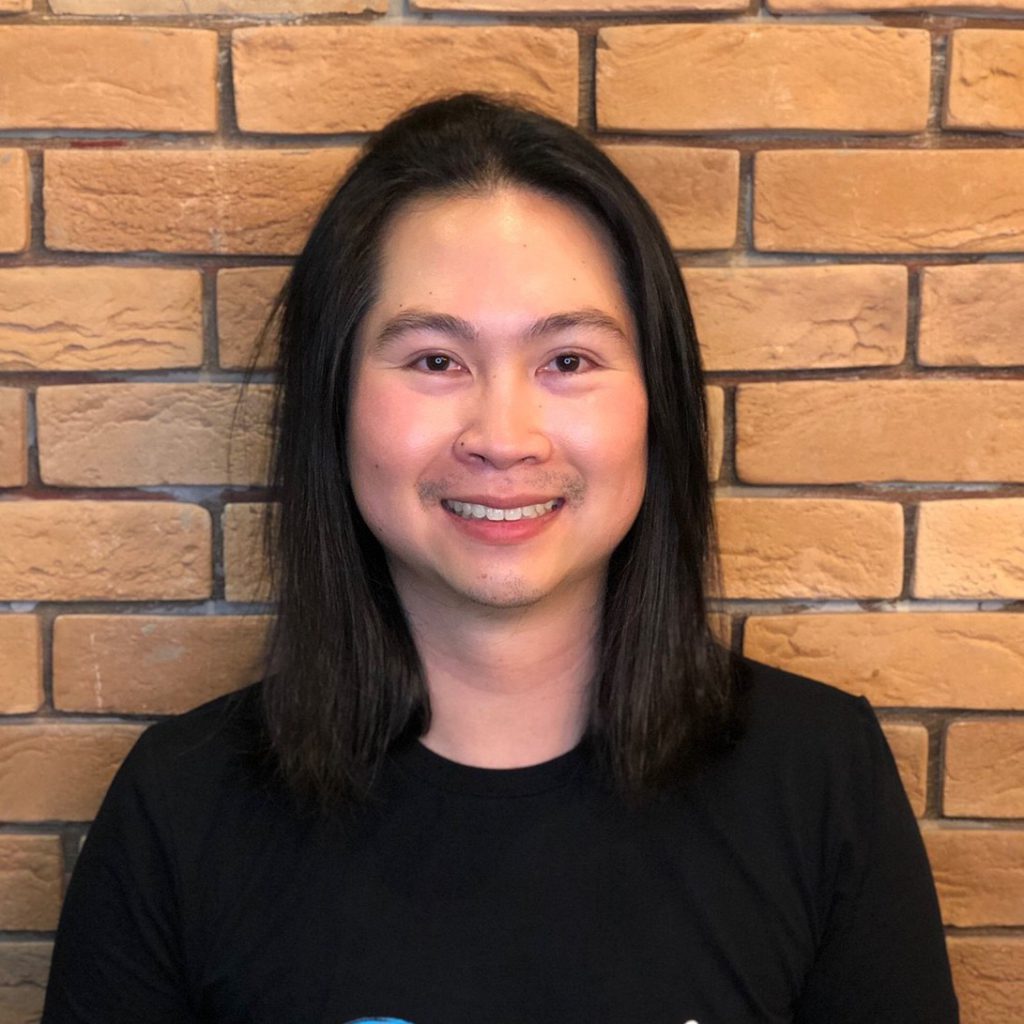 Kru Doungdee
Full Certified Pilates instructor
Kru Doungdee spent more than 15 years in the finance sector & had recurring office syndrome and serious lower back pain. After over 2 years of undergoing treatment and surgeries his physical therapist suggested him to try pilates.
Within a few months of routinely praticing pilates the pain began to subside and within a year it was gone completely. No more visit to the specialist! The experience inspired him to
become an instructor himself. Now after many year of training, he is Fully certified STOTT Pilates Instructor. Kru Doungdee's experience is yet another example of how pilates can improve your health and change your life.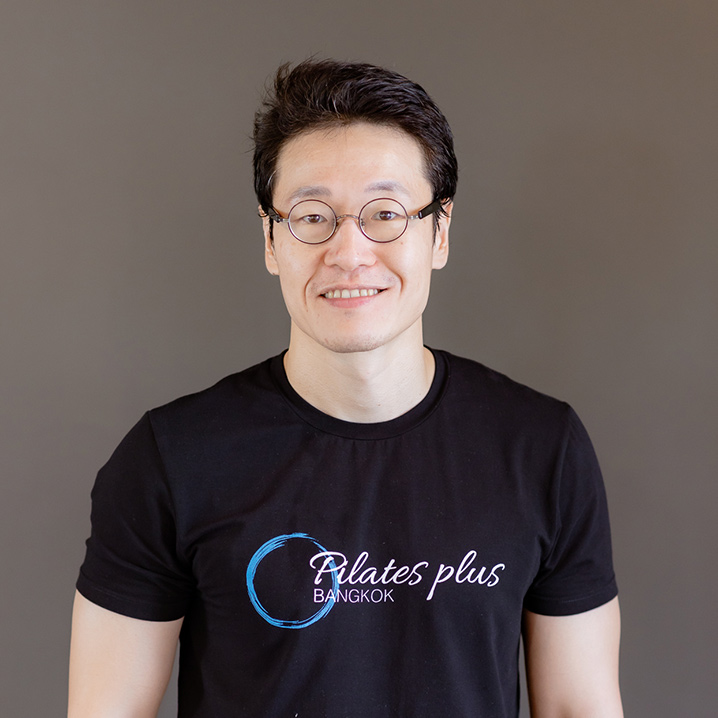 KRU TE
Certified Pilates Instructor
Te is a Chemist and Amateur Tennis player. He started practicing Pilates since 2014 and loved how it increased the quality of his life. (better
tennis performance and reduce office syndrome)
His professional studies began with Polestar Pilates (2018) followed by American Council on Exercise (ACE) (2019) and Balanced Body Pilates Apparatus (2020).
He now holds a certification in Polestar Pilates Instructor, ACE Personal trainer and ACE Weight Loss Specialist. He loves a creative and challenging class. If you are looking for an innovative, dynamic, functional, and effective reformer class. You won't be disappointed. Te guaranteed to make you sweat. Pilates changed his life and he wants the same for his clients!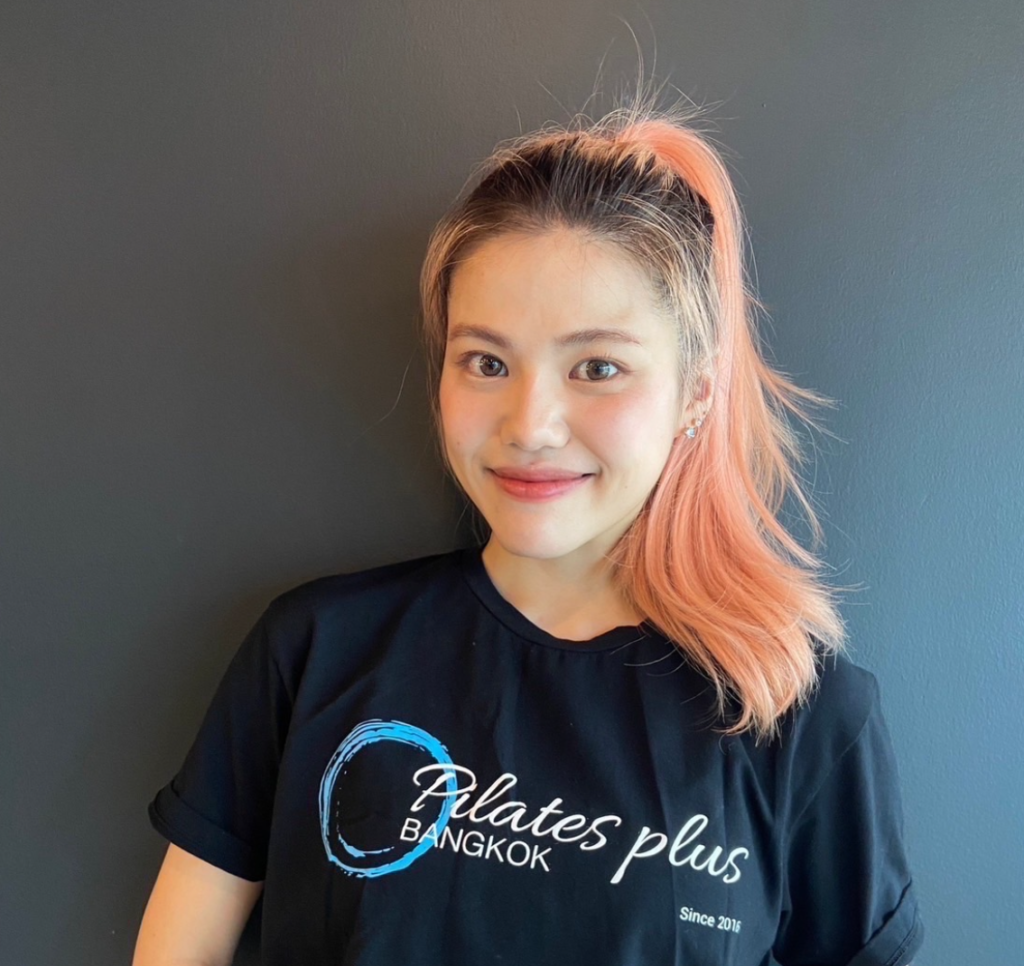 KRU Kratae
Certified Pilates Instructor
With over six years of experience in physical therapy across hospitals, clinics, and fitness centers, Kru Kratae has had the opportunity to care for many students, ranging from athletes and ballet dancers to individuals suffering from pain and movement limitations.
Everyone shares a common goal: to return to their normal, happy lives as they were before.
Driven by the desire to help everyone reach this goal, Kru Kratae is committed to continuous learning and application of new knowledge. This includes integrating the science and techniques of "strength and conditioning" to enhance the capabilities of athletes and using "DNS exercise" that emphasizes movement through correct breathing.
For Kru Kratae, the most crucial aspect of teaching Pilates is to inquire, analyze, and assess each individual's condition. This approach enables the design of tailored exercise routines for the best possible outcomes for everyone, which is what Kru Kratae aims to deliver to all.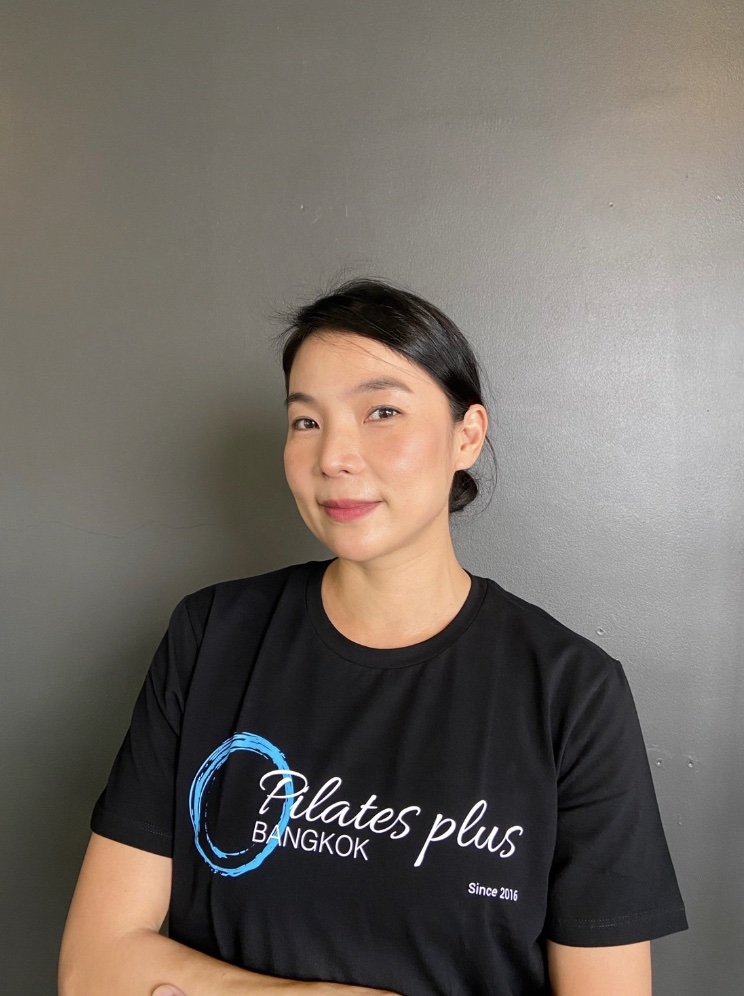 KRU PUI
Certified Pilates Instructor
Kru Pui has always been fond of sports and challenging activities, including yoga and aerial. She had experienced lower back and wrist injuries, which had brought her to Pilates. She was fascinated by the recovery of her body and wanted to learn more about it. This was the beginning of her journey as a Pilates Instructor.
For more than five years, Kru Pui has had many opportunities to use the Pilates method to assist many doctors and physiotherapists in treating patients. She has also continued her Master's degree in Exercise Physiology.
Her happiness comes from teaching Pilates and seeing her students improve their quality of life.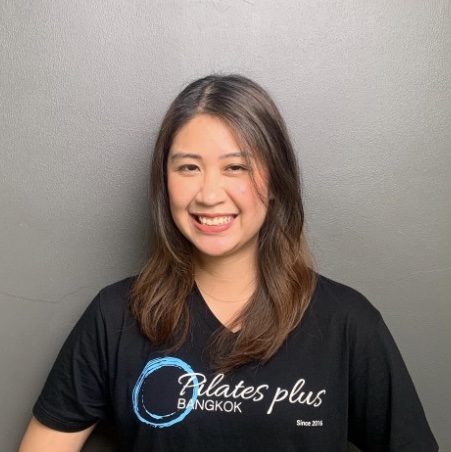 KRU NAN
Certified Pilates Instructor
Kru Nan graduated from the Faculty of Physiotherapy, Mahidol University in 2014 and had worked as a Musculoskeletal physiotherapist. She has always been interested in studying scoliosis as her brother and she both have the condition. She had completed many courses and workshops in Thailand and abroad, including Schroth and DNS for scoliosis.
Kru Nan has more than nine years of working experience as a physiotherapist, and 90% of her patients have imbalance or scoliosis cases, for which she mainly focuses on exercise treatment.
She was introduced to Pilates in 2019 as she was experiencing back pain from her work and also wanted to prop up her scoliosis condition. After doing Pilates for a couple months, the pain has gone, and after a year, her scoliosis curve has reduced unexpectedly.
Kru Nan is very positive that Pilates is a safe workout method, especially when instructed by professionals. It also increases her treatment options for patients. These are reasons why she decided to take a Pilates Instructor training and continuously does Pilates.
Kru Nan specializes in imbalance, scoliosis, injuries, and post-rehab cases.