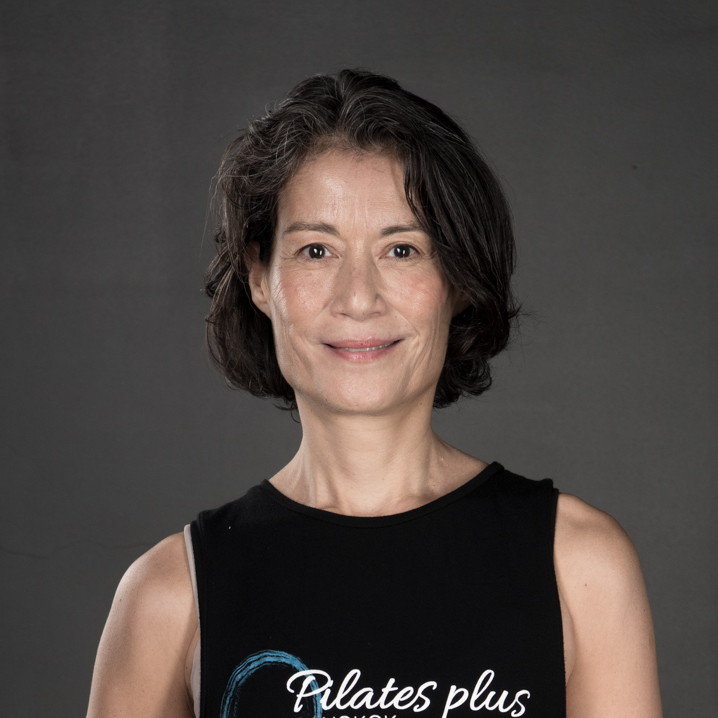 Kru Rai
Full certified Pilates Instructor
First started her Pilates journey over 10 years ago. Coming from a highly successful career in modeling, music and the arts she developed a full-blown passion for the arts. What started as personal journey turned into a full scale crusade taking her to the very pinnacle of Pilates teaching. She is one of the pioneers of Pilates in Thailand; her enthusiasm has rubbed off on hundreds of students over the years. Kru Rai is a true professional and can instill confidence in students of all abilities & take them to the next level. She is a fully qualified STOTT Pilates instructor.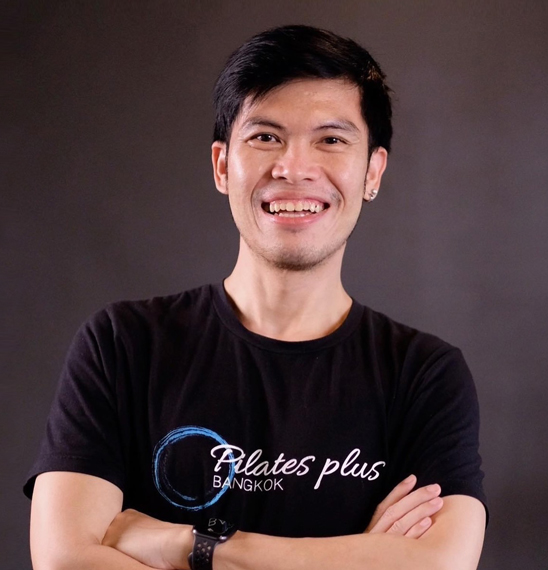 Kru Best
Certified xtend barre instructor/ pilates instructor
Kru Best is a professional dancer and musical theatre's actor. He was obsessed about dance, performing art and had studied in many kind of dancing.
He found out the best thing that can improve movement ability and maximize his limitation of dancing is Pilates.
While he came to the Pilates world,
he had started for various technics and many kind of workout style as Gyrotonic, Yogafly, Antigravity, Zumba, Jumping, xtend Barre.
Now he had experience in Instructing and group class exercise teaching more than 9 years,since 2012.
"Ignore the negativity and keep shining"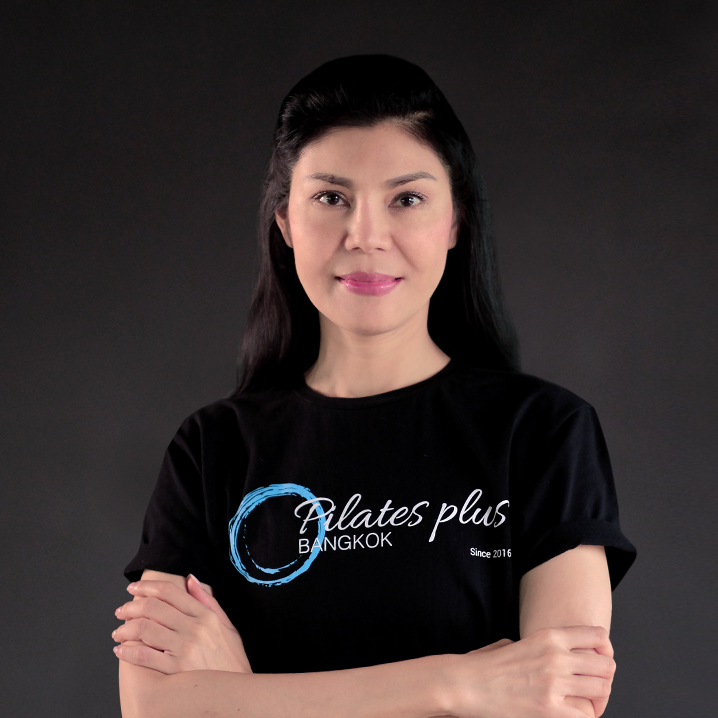 KRU NAAM
FULL CERTIFIED INSTRUCTOR
Kru Naam worked as a merchandiser since her MBA graduation and had suffered from office syndrome due to excessive working hours in front of computer. She was passionate about all kind working out to keep her body in shape until She was introduced to Pilates in 2014 and discovered that Pilates has solved her posture problem at the same time keeping her body strong and lean in the way she wants it to be. she has been in love with it since then.
Her journey to become a Pilates Instructor started in year 2019 when she decided to quit her job and traveled to Canada. She enrolled in a Comprehensive Full Certification Course at Merrithew Corporate Training Center in Toronto. This year she has achieved her dream and become a fully certified STOTT Pilates Instructor. She believes Pilates is not just help to improve poor posture or imbalanced muscles but also to help leading a fit and dynamic lifestyle. Kru Naam is eager to share her knowledge and benefits of Pilates and welcome you all to the world of Pilates.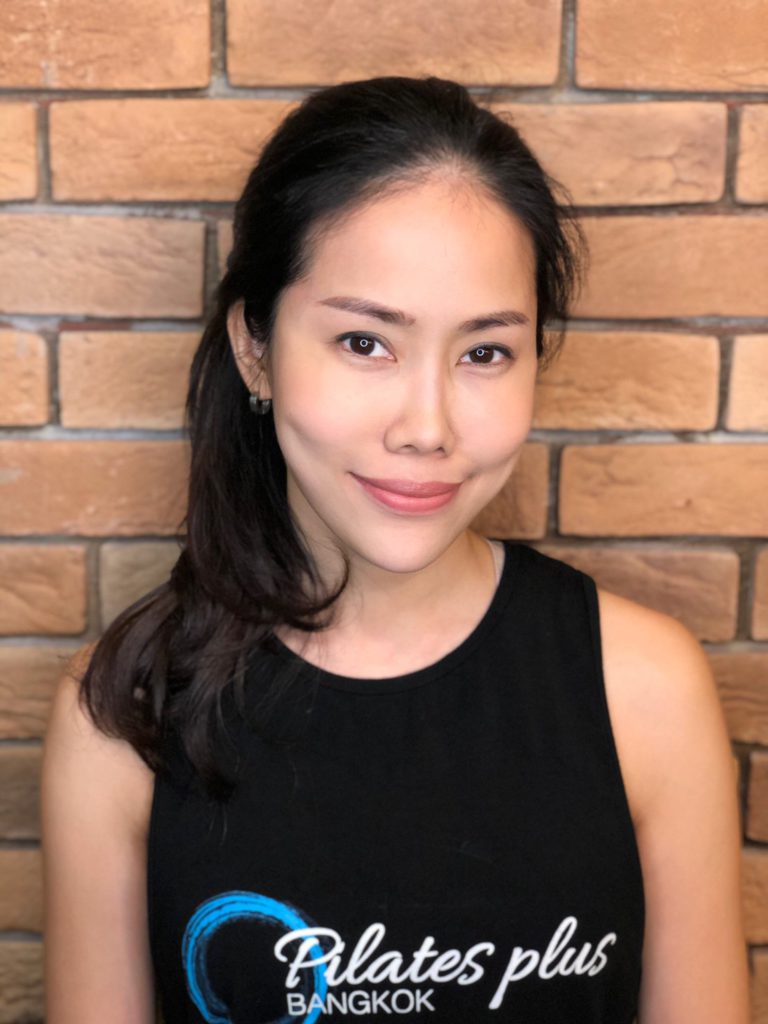 Kru Ice
Certified Xtend Barre Instructor / Pilates Instructor
Started her journey in Pilates as a means to cure flat feet syndrome and the goal to get back her pre-pregnancy body. With Kru Ice's beach body obsession, she dove right into the world of Pilates and began her fitness journey as an instructor in Mat Pilates and Reformer. After a few years of Pilates experience, she started her Xtend Barre odyssey at Pilates Plus Bangkok. Through teaching barre, she noticed the changes in her own body and became a true believer of the Xtend Barre product. Her sense of humor will catch you off guard during class and put a smile on your face while fighting through those barre burns. 🥰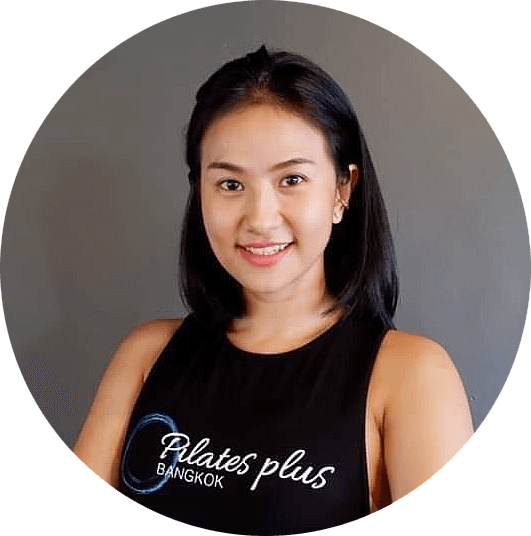 Kru Jeed
Pilates Instructor
From daily routine practice to passion and turning my road to a Pilates Professional.
I have been dedicated in my carrier to support
and educated Pilates Lover for a better lives.
I believe "Everyday is a new Beginning"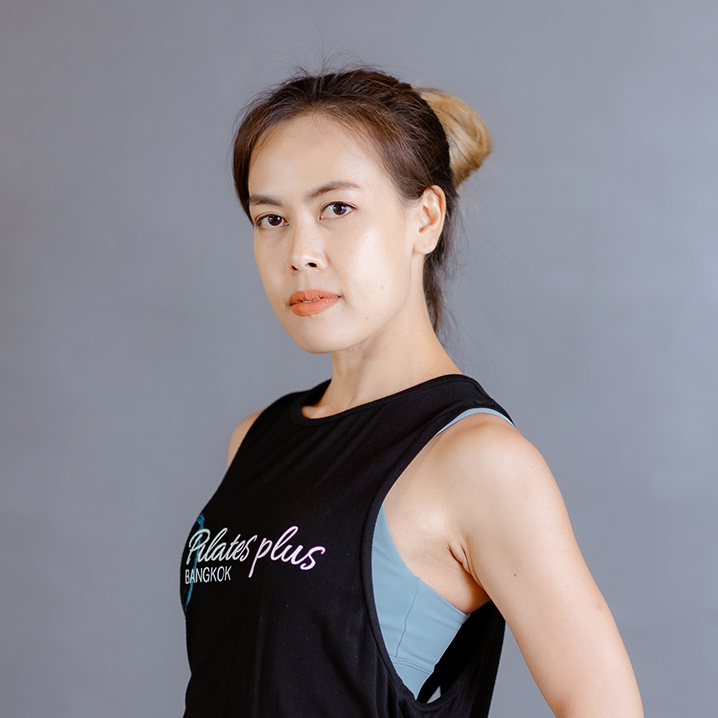 Kru Suyu
Certified Pilates instructor
Suyu was not a very healthy person to begin with. She had Hyperthyroidism , a severe allergy, sleep disorders and migraine. Refused to live weak and sick, Suyu decided that she could at least try to get stronger and happier. With such determination, she started to do various exercises of her liking; from yoga to swimming and running. As a result, her health condition improved and Suyu was beginning to enjoy her life a little more.
Until she found the new exercise called Pilates.
With the full 9 years of learning and teaching, Suyu is so convinced that Pilates had brought her back to happy life.
Currently Suyu is a STOTT certified Pilates instructor with a master degree in Sport Science. She's still looking to continue with an in-depth studies on Physiology in order to sharpen her knowledge and fulfill her great passion for Pilates teaching so she can pass on her love for Pilates to all her students and she is hopeful to help everyone to achieve a healthy life like her own.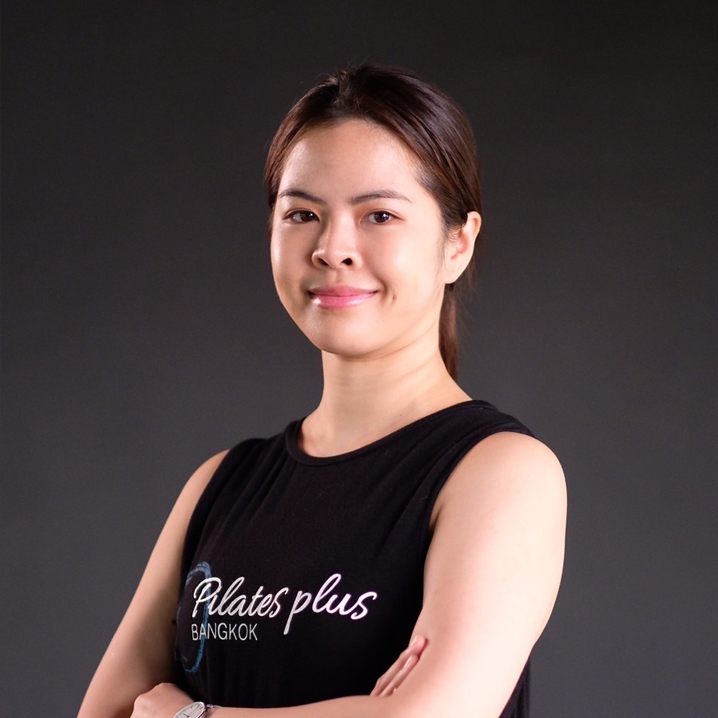 Kru Som
Full Certified Pilates Instructor
Som is a physical therapist with over 10 years' experience and has worked with many scoliosis clients as a Schroth therapist. She started doing Pilates because of her serious neck and lower back pain and later on she realized that Pilates can help improving strength, flexibility and the quality of life.
She started her professional study with Balanced Body and later on continued her study about Pilates for scoliosis regarding the Schroth method in order to improve her profession as a physical therapist and pilates instructor.
Kru Mor Som specializes in treating and teaching clients with health conditions especially in scoliosis.
If you want to improve your quality of life, Kru Mor Som will definitely not disappoint you.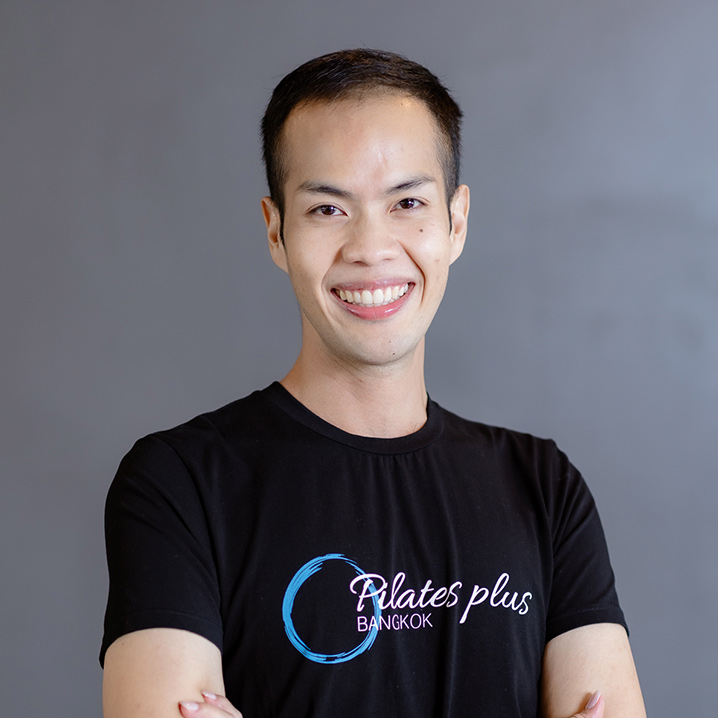 Kru Tony
Full Certified Pilates Instructor
With a degree in sports science, Tony acquired his 1st job as a Sport scientist at a renowned Smithvej hospital for 3 years.
Tony used to love running and had done numbers of marathons until one day when he was running, after 1st few miles,Tony detected acute pain in his lumbar. The pain continued to bother him and Tony had to quit running and start getting professional help.
In an attempt to his discovery, Tony took his 1st Pilates session. After a few sessions, he was astonished by how much his lumbar and his posture had improved.
With great enthusiasm, Tony kept practicing and kept himself enrolled in Pilates studies with numerous hours of endless trainings and workshops. Tony had been happily teaching Pilates for over 6 consecutive years and couldn't be more happy with his life as a Pilates instructor.
Like Joseph Pilates once said "Physical fitness is the first requisite of happiness" Tony keeps on passing this awareness to his clients and loyal fans.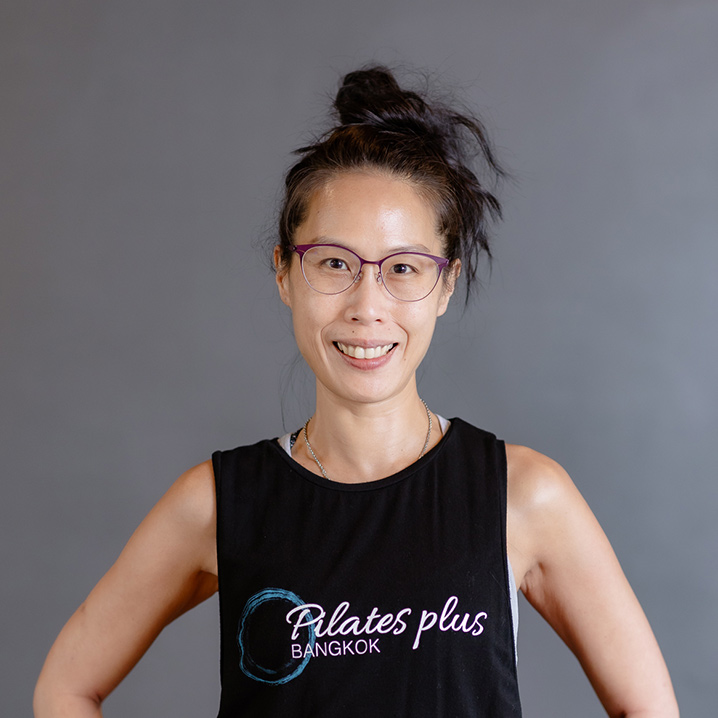 Kru Pom
Full Certified Pilates Instructor
Journey to the world of pilates.
Her pilates journey has started in 2004. She was looking for ways to cope with her scoliosis and introduced to pilates by her personal trainer. Since then she has fallen in love with the methods of the exercise. Because of her scoliosis, Pomme has her main focus on working muscle at the right time and place in order to optimize the movement and being centered. Pomme had her complete pilates training with Balanced Body, and has been working successfully with scoliosis and conditioned clients since the beginning of her career. Her quote "Experienced by pilates, inspired by pilates and passing on pilates"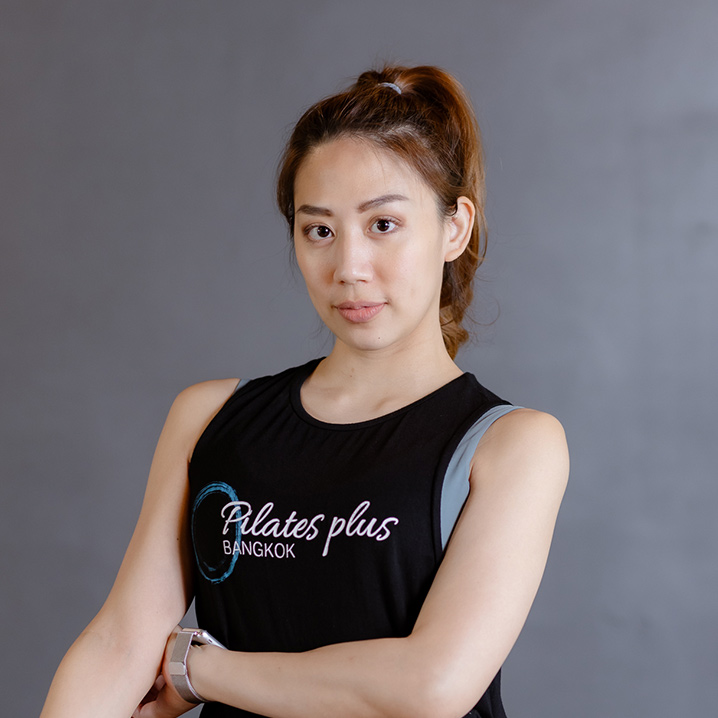 Kru Fang
Pilates instructor
It all started with the idea of taking care of herself to get stronger physically and mentally.
The first thing Shada fell in love with was the breathing and later on she got fascinated more by all the small details of the muscles and the sophistication of human anatomy. Pilates became her way of meditating, stress-relieving and definitely a passion. That's where she decided to give it all and began her education with STOTT Pilates.
And this allows her to live up to her own ideal by passing on her value and passion to others.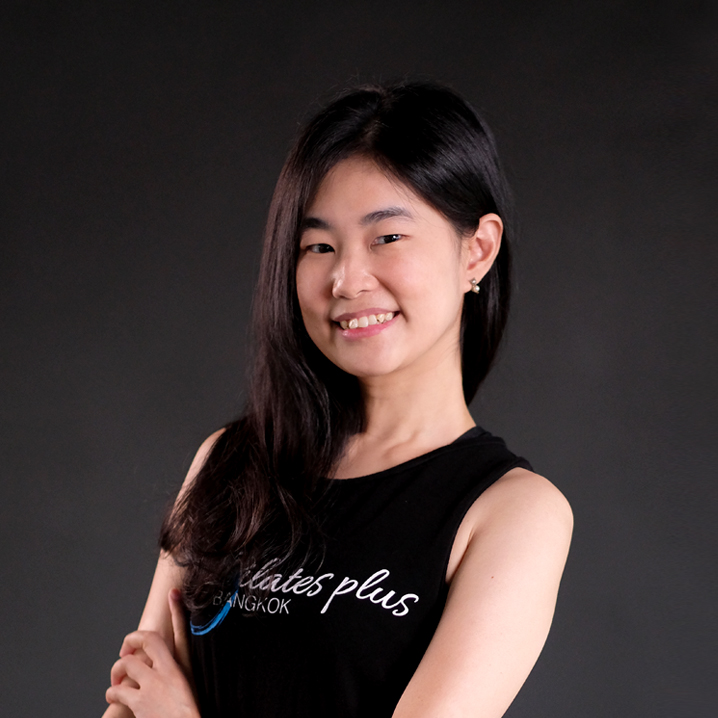 KRU MAY
Ph.D. In Exercise Science Exercise Physiologist & Pilates Instructor
Kru May has her Ph.D. in Exercise Science. She is an exercise physiologist and a lecturer in exercise physiology at Mahidol University. May had been a professional ballerina, contemporary dancer, and aerialist (acrobatics) for years in Germany and New Zealand and was regularly experienced musculoskeletal injuries during practices and the following shows. That was when she got introduced to Pilates and realized that the approach significantly attenuated her pain and even improved her performance on stage. Before coming back to Thailand, May had worked with clients with diverse health conditions such as heart disease, cancer, and post-operation. May specializes in biomechanics, motor control, rehabilitation exercise, and exercise in special population.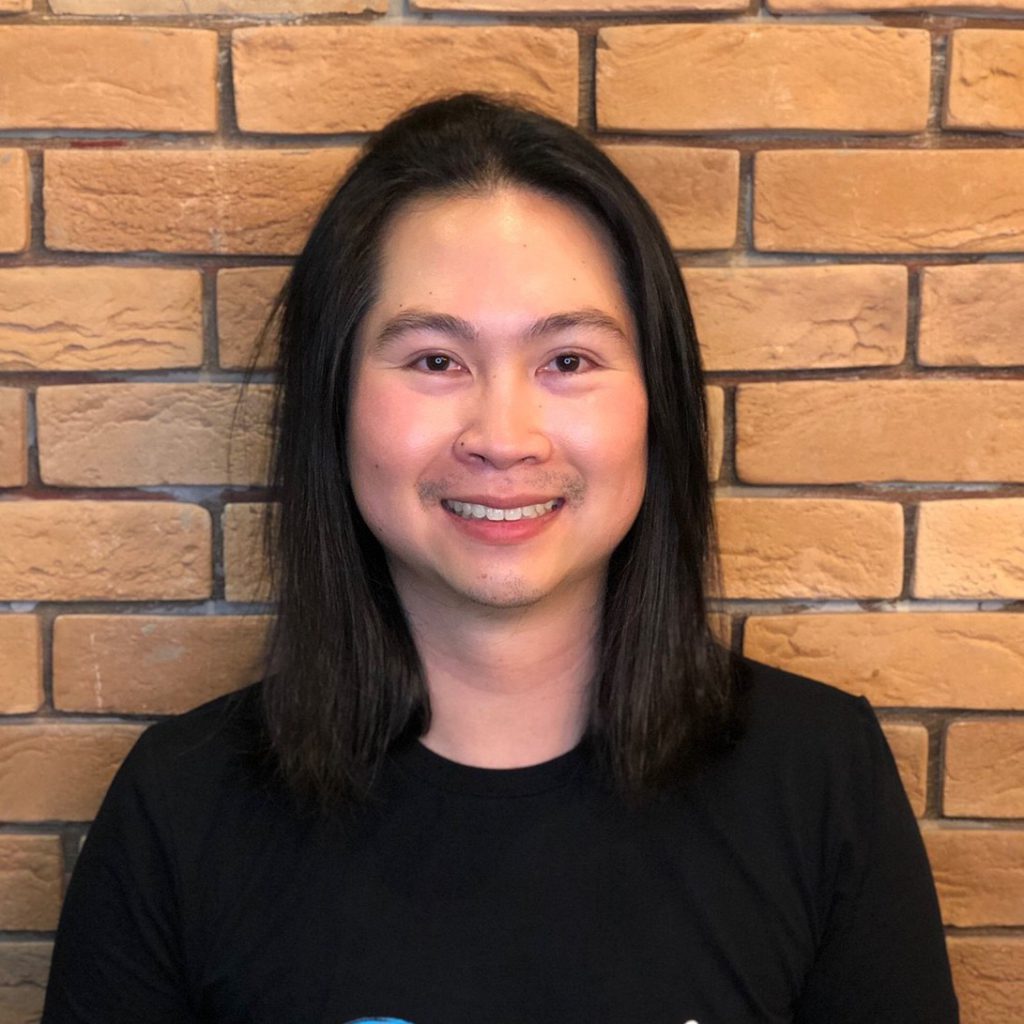 Kru Doungdee
Full Certified Pilates instructor
Kru Doungdee spent more than 15 years in the finance sector & had recurring office syndrome and serious lower back pain. After over 2 years of undergoing treatment and surgeries his physical therapist suggested him to try pilates.
Within a few months of routinely praticing pilates the pain began to subside and within a year it was gone completely. No more visit to the specialist! The experience inspired him to
become an instructor himself. Now after many year of training, he is Fully certified STOTT Pilates Instructor. Kru Doungdee's experience is yet another example of how pilates can improve your health and change your life.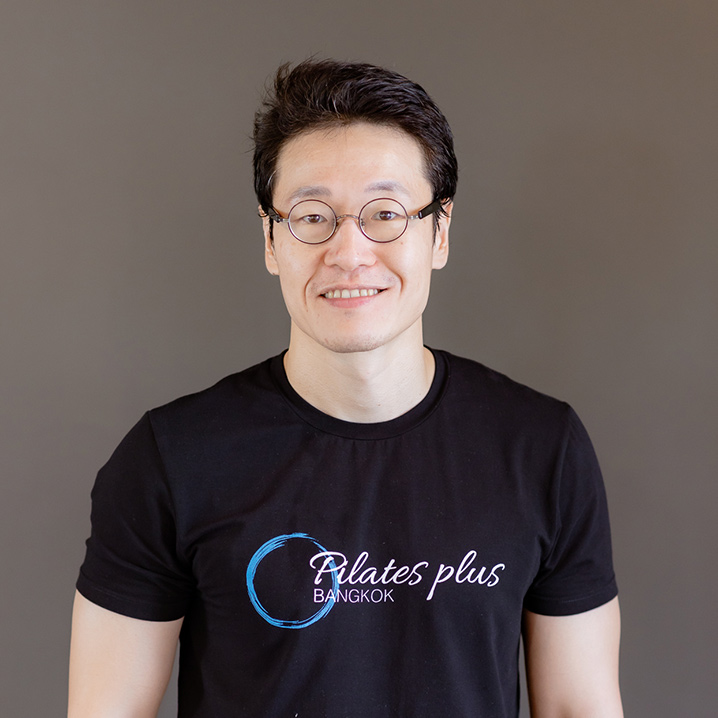 KRU TE
Certified Pilates Instructor
Te is a Chemist and Amateur Tennis player. He started practicing Pilates since 2014 and loved how it increased the quality of his life. (better
tennis performance and reduce office syndrome)
His professional studies began with Polestar Pilates (2018) followed by American Council on Exercise (ACE) (2019) and Balanced Body Pilates Apparatus (2020).
He now holds a certification in Polestar Pilates Instructor, ACE Personal trainer and ACE Weight Loss Specialist. He loves a creative and challenging class. If you are looking for an innovative, dynamic, functional, and effective reformer class. You won't be disappointed. Te guaranteed to make you sweat. Pilates changed his life and he wants the same for his clients!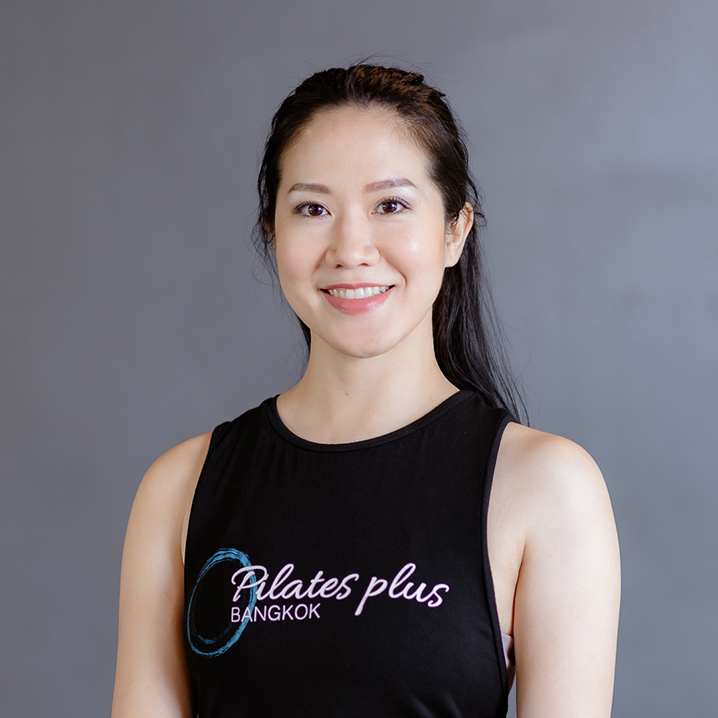 Kru Natty
Certified Pilates instructor
As a flight attendant, Natty got injured very often, especially at lower back for bending to pickup stuffs. Though It wasn't serious, to her, it was quite a bother.
She also experienced chronic fatigue and her immunity declined to the point where she would catch cold very often.
In 2014 Natty felt the need to improve her health. She chose Pilates as the mean to cure the pain in her lower back and result was truly amazing. Not only the pain disappeared but she could feel that her health improved tremendously and she felt stronger inside out.
Realizing how Pilates worked magic for her, Natty further pursued the higher learning of Pilates and now she is a Balanced Body certified mat Pilates Instructor and this is just a beginning of her Pilates Journey.
Join her class if you love challenge and enjoy pushing your limit like her!!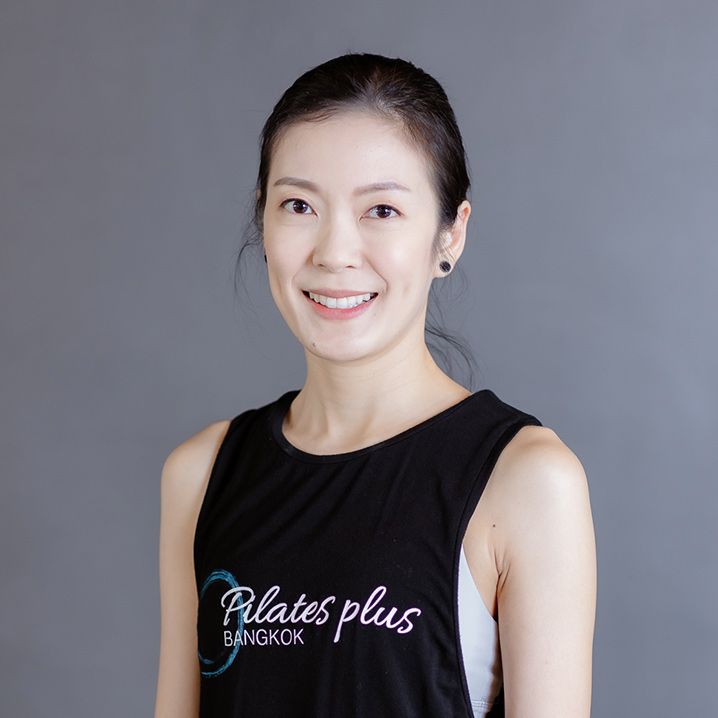 Kru Jumjim
Certified Pilates Instructor
Jumjim has been working as a flight
attendant for almost 18 years.
One day she fell in love with Pilates while relying on it to keep her Body & Mind healthy and happy throughout her daily activities.
In 2019 She became certified as a Pilates Instructor through Balanced Body.
She likes to challenge her clients with an intense burn especially with a strong core series ,delivers classes that strives to make her clients laugh, sweat and build their own mind body connection to use in real life, the clients leave her classes feeling rejuvenated, energized and balanced in mind and body.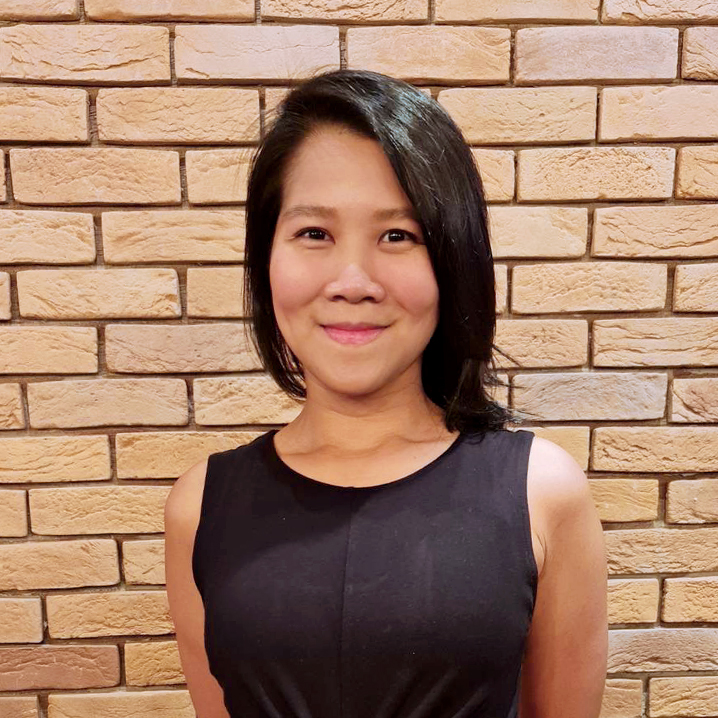 Kru Warm
Pilates Instructor
Warm became passionate about teaching Pilates after a total hip replacement forced her to re-examine her own training techniques. She
believes the mind body connection can empower a deeper, more intelligent approach to fitness, and that the principles of Pilates can be incorporated into all aspects of movement education.
As an instructor, she has a great
appreciation for pilates adaptability being able to meet her clients where ever they are now and continue to build from there.
She specializes in pilates for weight loss and total body transformation.